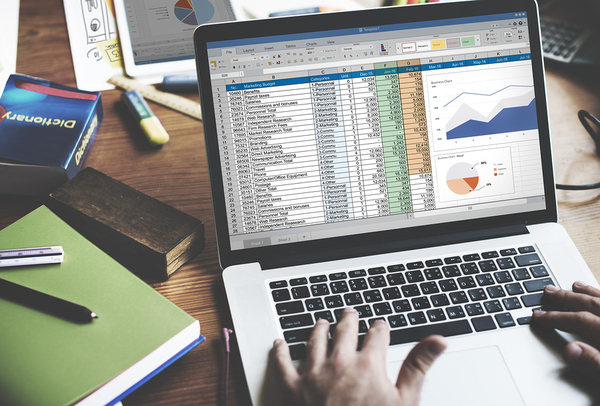 It's 9 AM - do you know where your financial data is?
If your firm is anything like hundreds of other companies, you have information stored in many different sources, including spreadsheets and multiple general ledgers. However, such an approach creates enormous headaches, and not just at year-end close. Read on to learn how enterprise performance management (EPM) software can make enterprise-wide planning and reporting more secure, consistent, and hassle-free.
Spreadsheets: Not So Splendid
There's a reason the business world relies upon spreadsheets. They can perform a variety of functions and they're easy to use. That being said, there are definite limitations to how useful spreadsheets can be, and it's a poor practice to rely upon them for corporate financial processes (especially in a large business).
One of the reasons not to use spreadsheets and email exclusively is related to security. Let's say that a member of the accounting team takes his laptop to a coffee shop to get some work done. He doesn't let it out of his sight the entire time, but that doesn't matter - emailing spreadsheets with sensitive information is risky. A sensitive plan or forecast can be accidentally emailed to the wrong person. Within a few minutes, your company's financial data is in the hands of a competitor.
While security is certainly critical, it's only one reason not to use spreadsheets exclusively in enterprise planning and reporting. We'll use another example to illustrate our point. Let's say Bill is the CFO at a multinational corporation. Each branch's accounting department uses spreadsheets for financial reporting. If Bill tries to combine the spreadsheets into one document, there's a very good chance he'll accidentally omit data.
Furthermore, spreadsheets don't provide an audit trail and are error-prone. They're not intended for collaboration; it's not as though one member can update every version of a spreadsheet simply by logging in to one portal. Spreadsheets don't scale well, either. Large businesses have many more departments and divisions to collect planning and reporting data from than small ones do, and consolidating multiple tabs in a large workbook can become cumbersome and time-consuming.
If Spreadsheets Aren't the Solution, What Is?
Instead of using spreadsheets and manually collecting planning or reporting data, there's a more efficient, effective, and secure way of doing things. Cloud-based EPM software is becoming the preferred approach for small, medium and large enterprises.
EPM software is software that CFOs and finance professionals use to create business plans that link with corporate strategies and goals. It allows them to create more accurate financial plans and forecasts in less time, integrate data from multiple departments and systems, streamline financial reporting, and continually monitor and manage the company's performance.
How does cloud-based EPM software deliver on these promises? For a start, it automates a number of important finance processes, such as data collection across departments and systems. You no longer have to worry that there will be errors due to manual data entry. And these processes can be automated and scheduled to accelerate workflow.
Because of automation, you also don't need to be concerned that errors or omissions in data will go undetected. Built-in validation rules will flag and highlight errors or exceptions. In fact, cloud-based EPM software fosters a sense of accountability, because you'll be able to tell who entered what information and when. If there is a mistake, you can catch it, and correct it quickly.
Security has been a major concern for finance professionals, but cloud-based EPM vendors are addressing those fears by reducing vulnerabilities and strengthening their solutions' defenses with tools such as encryption.
Spreadsheets have their place in the finance department, but there's a much bigger role for EPM software, especially cloud-based solutions. This technology makes financial close and reporting far simpler at year-end and the rest of the year, too. And with many cloud-based EPM solutions, users can continue to use spreadsheets as a front-end.
Want to learn how cloud-based EPM software can benefit your business? Watch the webinar replay:: The CFO Playbook on Financial Reporting: Tips for a Smoother Year-End Close to learn more.